DTLR Radio Presents: CD Signing Events w/ Finesse 2 Tymes!
CHECK OUT OUR VIDEO RECAPS + PHOTOS BELOW!
Finesse 2 Tymes In-Store Events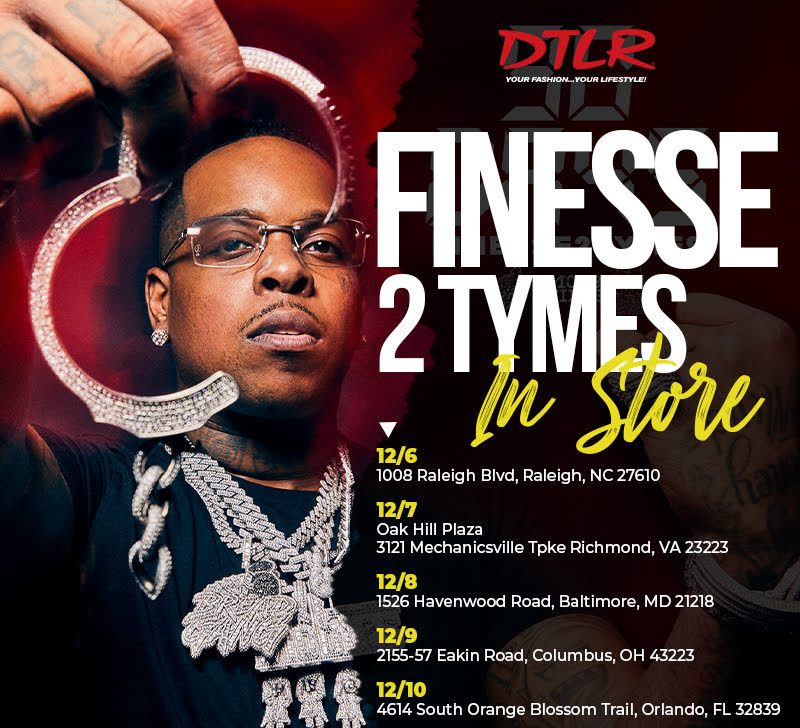 RALEIGH
DATE: Tuesday, 12/06
TIME: 5pm ET
ADDRESS: 1008 Raleigh Blvd., Raleigh, NC 27610
RICHMOND
DATE: Wednesday, 12/07
TIME: 5pm ET
ADDRESS: 3121 Mechanicsville Turnpike Richmond, VA 23223
BALTIMORE
DATE: Thursday, 12/08
TIME: 5pm ET
ADDRESS: 1526 Havenwood Rd. Baltimore, MD 21218
COLUMBUS
DATE: Friday, 12/09
TIME: 5pm ET
ADDRESS: 2155-57 Eakin Rd, Columbus, OH 43223
ORLANDO
DATE: Saturday, 12/10
TIME: 5pm ET
ADDRESS: 4614 S Orange Blossom Trl, Orlando, FL 32839
DTLR Radio and Atlantic Records have partnered up to host FIVE different album signing events with hitmaker FINESSE 2 TYMES! With his brand new album 90 Days out everywhere, Finesse will be live in-store on December 6th (Raleigh), 7th (Richmond), 8th (Baltimore), 9th (Columbus), and 10th (Orlando) to meet his fans and celebrate this exciting new release!
In order to guarantee entry into this event, here are your two ticket options:
$14.99 – In Person Option

Starting this week, you can purchase a wristband in person at either of our in-store locations for $14.99. You will receive the physical CD on the day of the event. Please make sure to bring your wristband with you to the event to ensure access. Please note we are not responsible for lost or stolen wristbands.
$19.99 – Online Option

Purchase an online ticket now via Eventbrite (Raleigh + Richmond + Baltimore + Columbus + Orlando) available now for $19.99 each. By purchasing a digital ticket, you will be guaranteed entry into the event. You will receive your physical CD of Me vs. Myself upon arrival to the event you purchased a ticket for (you will not be able to get the CD beforehand). Please be prepared to show your online ticket upon arrival to ensure access.
Due to high demand, we suggest early arrival to this event. Please note we have a limited amount of time with the artist. We can only guarantee entry to those who purchase their ticket ahead of time. All others will be on a 'first come, first served' basis.
---