DTLR Radio Presents: Album Signing Events w/ Glorilla! (Philly, Connecticut + Atlanta)
CHECK OUT OUR VIDEO RECAPS + PHOTOS BELOW!
Glorilla CD Signing Events!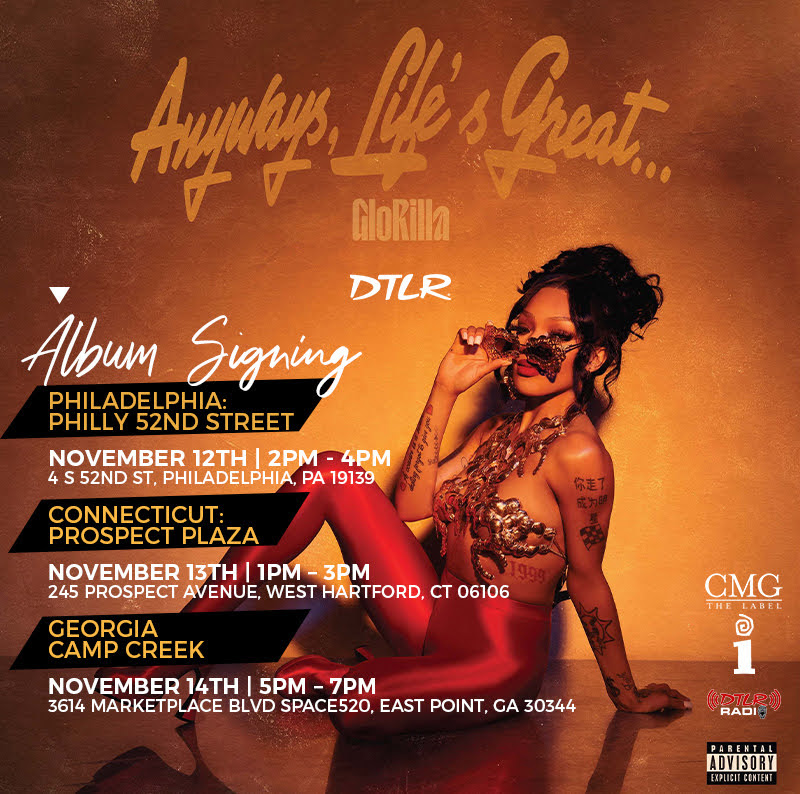 PHILLY
DATE: Saturday, 11/12
TIME: 2pm ET
ADDRESS: 4 S 52nd St., Philadelphia, PA 19139
CONNECTICUT
DATE: Sunday, 11/13
TIME: 1pm ET
ADDRESS: 245 Prospect Ave, Hartford, CT 06106
ATLANTA
DATE: Monday, 11/14
TIME: 5pm ET
ADDRESS: 3614 Marketplace Blvd., Space 520, East Point, GA 30344
DTLR Radio, CMG Records + Interscope have partnered up to host THREE different album signing events with buzzing hitmaker Glorilla! With her brand new album ANYWAYS LIFE's GREAT out everywhere, Glorilla will be live in-store on November 12th (Philly), 13th (Connecticut) and 14th (Atlanta) to meet her fans, sign autographs, and celebrate this exciting new release!
In order to guarantee entry into this event, here are your two ticket options:
$10.99 – In Person Option

Starting this week, you can purchase a ticket/wristband and the physical CD of ANYWAYS LIFE's GREAT in person at either of our in-store locations DTLR Philly (52nd St.), our DTLR Connecticut (Prospect Plaza), and DTLR Atlanta (Camp Creek) location for $14.99. Please make sure to bring your wristband and CD with you to the event to ensure access. Please note we are not responsible for lost or stolen wristbands.
$15.99 – Online Option

Purchase an online ticket now via Eventbrite (PHILLY + CONNECTICUT + ATLANTA) available now for $15.99 each. By purchasing a digital ticket, you will be guaranteed entry into the event. You will receive your physical CD of ANYWAYS LIFE'S GREAT upon arrival to the event you purchased a ticket for (you will not be able to get the CD beforehand). Please be prepared to show your online ticket upon arrival to ensure access.
Due to high demand, we suggest early arrival to this event. Please note we have a limited amount of time with the artist. We can only guarantee entry to those who purchase their ticket ahead of time. All others will be on a 'first come, first served' basis.
---