DTLR Launches First-Ever HBCU Battlegrounds Virtual Esports Call of Duty Warzone Tournament and Career Fair
Written by Brittany Leigh on October 15, 2020
In partnership with Cxmmunity and 300 Entertainment, the retailer will create a virtual esports and live streaming experience to raise awareness and funds for participating HBCUs.
DTLR announced the launch of the first-ever HBCU virtual esports battleground and career fair in partnership with Cxmmunity, a nonprofit whose mission is to increase the number of minorities taking place in the gaming industry, and independent music label 300 Entertainment. This virtual activation, which will take place on both Oct. 18 and 25 from 1 p.m. to 6 p.m., aims to create a sense of community while also raising awareness and funds for participating HBCUs that have lost out on critical funding and alumni support due to the postponement of fall sports and homecoming games, and elimination of in-person career fairs and college tours in 2020 due to COVID-19.
Esports Battleground
DTLR teamed up with Cxmmunity and 300 Entertainment to create a first-of-its-kind virtual activation on livestreaming platform Twitch that will match up popular recording artists– including Tee Grizzley, T-Shyne, Lil Keed and DJ SideReal – with team captains of the HBCU Esports League from participating colleges and universities, who will battle it out playing Call of Duty. The battleground is comprised of mainly 300 Entertainment talent. Anyone can login to Twitch to join in on the fun and watch each matchup. Two groups of artists and schools will be matched up during each session on Oct. 18 and Oct. 25 from 1-6 p.m.
The HBCU Esports League was formed earlier this summer by Twitch and Cxmmunity. Participating HBCUs include Clark Atlanta University, Alabama State, Johnson C. Smith University, Howard University, Tennessee State, N.C. A&T State University, NC Central University and Oakwood University to name a few. While donations are not required to watch the matchups, they are encouraged as HBCUs are missing out on critical funds that would normally be acquired during homecoming games.
Virtual Career/College Fair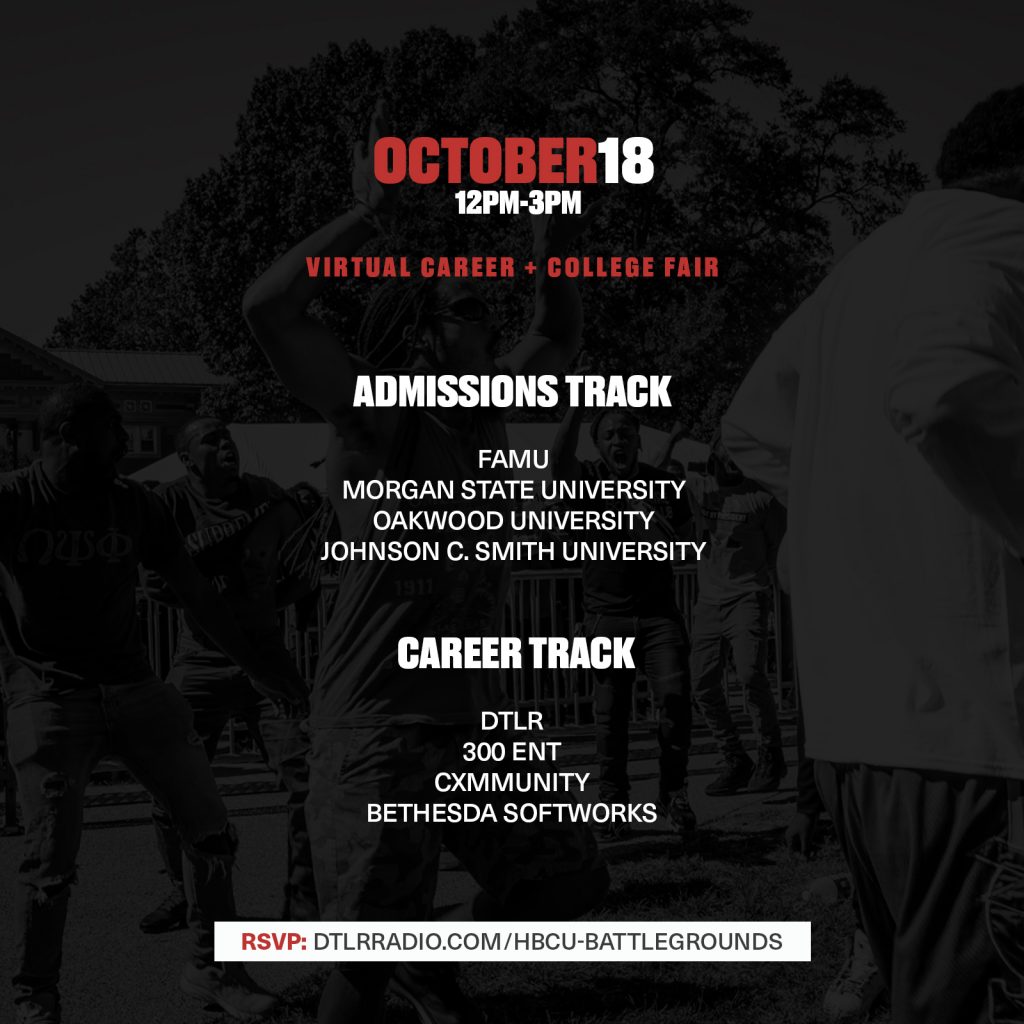 In addition to the elimination of homecoming, students are missing out on opportunities to attend career fairs and tour schools, so the second part of this virtual activation consists of two tracks: a virtual career and college fair on platform Gamerjibe. The career fair will help connect college students with professionals and recruiters from lifestyle, fashion, music and entertainment brands, including Cxmmunity and Bethesda Softworks, DTLR and 300 Entertainment, which has guaranteed one internship to an attending student. Students can RSVP for an opportunity to conduct on-site interviews and also attend a live panel discussion. The second track will be for high school students, who will have the opportunity to meet with admissions from several participating HBCUs.
The fair will be set up like a game where students can create their own avatars and interact with participating brands and representatives that will have virtual "booths" set up. Anyone with an avatar can link it to their LinkedIn page or social media accounts to allow for easy networking. The fair portion of the activation will start at 12 p.m. and run through 3 p.m. on both Oct. 18 and Oct. 25.
---
Reader's opinions
---