DTLR + Mitchell & Ness Announce 2022 NBA All-Star Activations!
Written by Jay Holz on February 16, 2022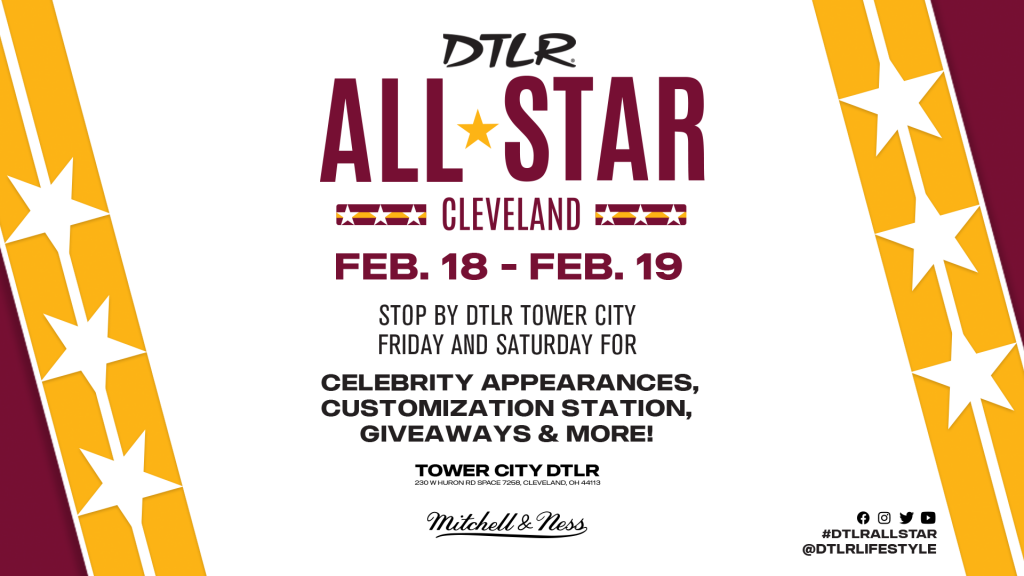 We are excited to announce that DTLR will be live and in action at this year's NBA All Star weekend in Cleveland, OH! The NBA world along with entertainment's biggest stars will all be in town so you know we had to do it big this year.
On Friday (2/18), DTLR will be teaming up with our good friends at Mitchell & Ness for an all-day activation at our Tower City DTLR location. DTLR Radio will be broadcasting live all day long from the store as we welcome a ton of special guests.
This will include famous fashion designer Jeff Hamilton, who will have a 1-on-1 discussion with sports influencer Da Kid Gowie. NBA legends BJ Armstrong and Isiah Thomas will host a live in-store podcast about All-Star, the NBA season and much more. DTLR Radio's own Tiara LaNiece will have a Women in Sports conversation with sports analyst/influencer Joy DeAngela. We'll also have a full day of DJ mixes live on our Twitch channel. It'll be nonstop action the moment we open until the moment we close.
The next day (2/19), we will be hosting a live meet and greet with popular rapper NLE Choppa, who just released his new album Me vs. Me (this will also take place at our Tower City location). Mitchell & Ness will be offering personalized hat customizations for those in attendance.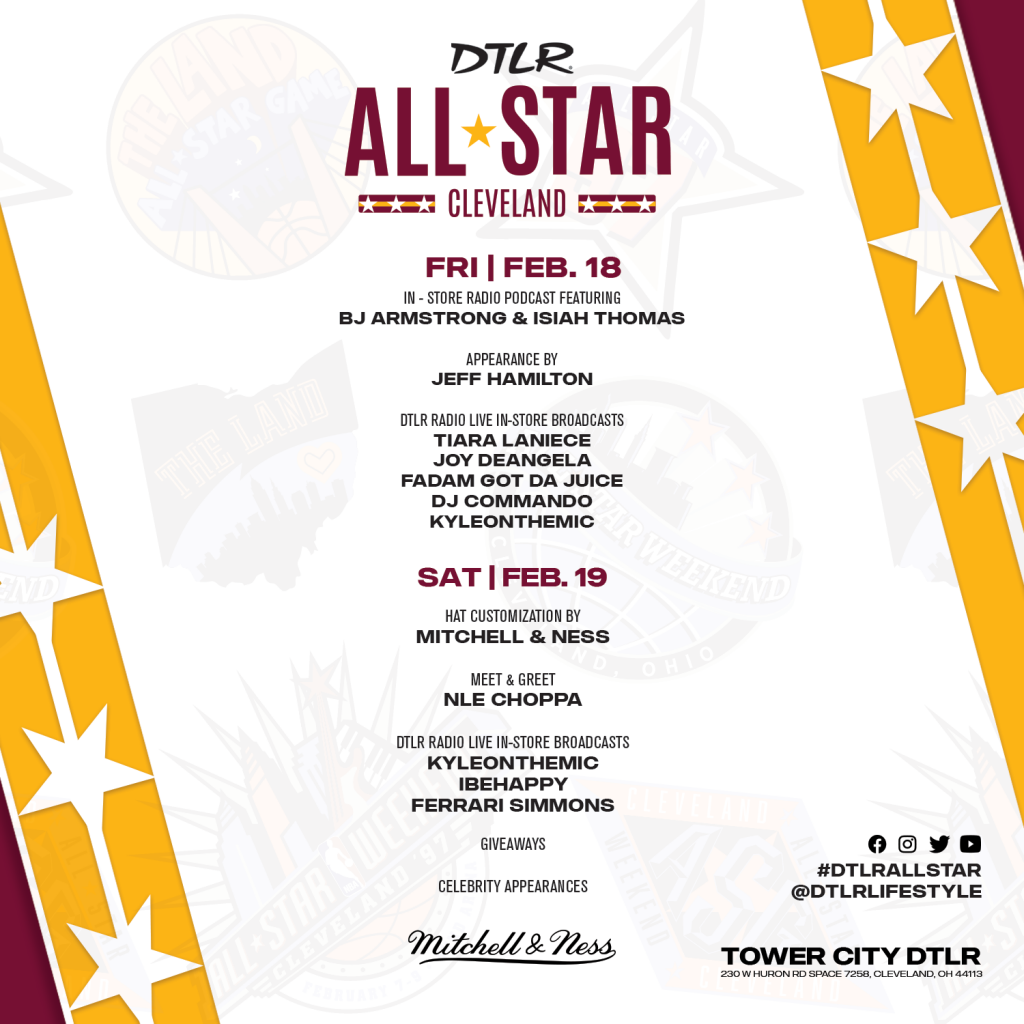 While the weekend is full of fun and exciting sports and music-related events, we can't forget about our many community efforts our Outreach team is taking during All Star.
2022 NBA All-Star DTLR Community Events
DTLR x R.A.K.E All Star Weekend Kindness Truck
We have partnered with local nonprofit Random Acts of Kindness (R.A.K.E.) to launch a weekend-long effort to package and distribute 800 hot lunches to shelters and the homeless community in downtown Cleveland.
Dates: February 17th – February 19th
Time: 12p – 3p, Daily
Prep Location: Community Kitchen Address/Times
New Playground Donation for Boys & Girls Club of Northeast Ohio
Local kids from the Boys & Girls Clubs of Northeast Ohio will be unveiling plans for a new playground at the Broadway Club, funded by DTLR Community Outreach. The new playground, which was designed by kids, will feature new equipment, a rope challenge, rubber mulch padding and an expanded playground area. Plans are for the playground to be installed in Late June/Early July!
Date: February 17th Time: 3p
Location: 6114 Broadway Avenue, Cleveland, Ohio 44127
DTLR Youth Basketball Clinic w/Dahntay Jones
DTLR will host a basketball clinic for 100 local youth, run by NBA champion Dahntay Jones. The clinic, which will be held at John Adams High School, will include drills, giveaways, music and more. This will be an amazing event for the future star athletes.
Date: February 18th Time: 10a – 2p
Location: 3817 Martian Luther King Jr. Drive, Cleveland OH 44105
If you'll be in Cleveland, be sure to pull up on us all weekend! For those who won't be, tune into our Instagram and our Twitch all weekend long. We'll be live-streaming the entire thing.
---
Reader's opinions
---