DTLR Radio Presents: Meet & Greet CD Signing w/ French Montana! (CONNECTICUT + DC + BALTIMORE)
Written by Jay Holz on January 4, 2023
French Montana Album Signing Events!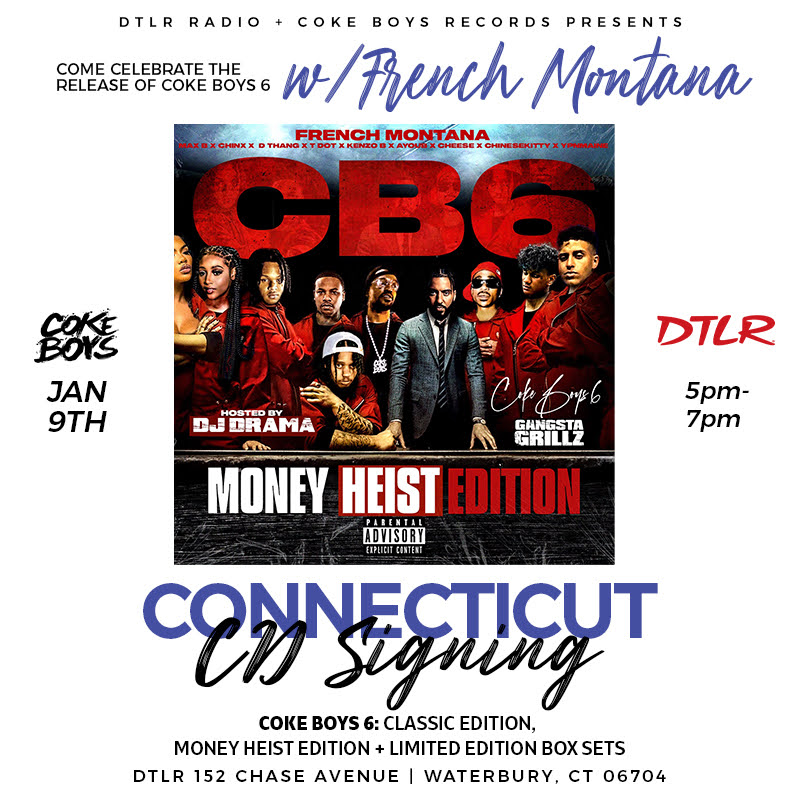 DTLR Radio and Coke Boys Records have partnered up to host FOUR in-store Album Signing events with superstar artist FRENCH MONTANA! The hitmaker will be live in-store at various DTLR locations to meet his fans, sign copies of his new album Coke Boys 6, and celebrate the brand new release. You won't want to miss this!
See the dates, locations and ticket information below!
BALTIMORE
DATE: Thursday, Jan. 12, 2023
TIME: 5pm ET
ADDRESS: 1534 Havenwood Rd, Baltimore, MD 21218
CONNECTICUT
DATE: Monday, Jan. 9, 2023
TIME: 5pm ET
ADDRESS: 152 Chase Avenue., Waterbury, CT 06704
WASHINGTON, D.C.
DATE: Wednesday, Jan. 11, 2023
TIME: 5pm ET
ADDRESS: 1060 Brentwood Rd NE, Washington, DC 20018
In order to guarantee entry into this event, here are your two options:
In Person Option

There are 2 different CD options for Coke Boys 6, which are: Standard CD + Deluxe CD. You can pre-purchase one of these options only at the DTLR location that is hosting the in-store event. These prices will be: Standard – $9.99 | Deluxe – $14.99. Purchasing one of these options comes with entrance to the in-store album signing event. Please note we are not responsible for lost or stolen items. Also please note you will NOT receive the CD until the day of the event.
Online Option

Purchase online now via Eventbrite (CONNECTICUT + DC + BALTIMORE) to any of the 4 in-store events. The online pricing will be: Standard – $14.99 | Deluxe – $19.99. By purchasing online at this pre-sale link, you will receive whichever physical CD of Coke Boys 6 you purchased, which comes with entry into our album signing event. You will receive your physical CD upon arrival to the event. Please be prepared to show your online purchase receipt upon arrival to ensure access.
Due to high demand, we suggest early arrival to this event. Please note we have a limited amount of time with the artist. We can only guarantee entry to those who purchased their CD ahead of time. All others will be on a 'first come, first served' basis.
---
Reader's opinions
---