Twitter-Owned Square To Acquire Majority Stake of Jay-Z's TIDAL
Written by Jay Holz on March 4, 2021
It's a big move in the streaming world. Square, owned by Twitter, is set to acquire a majority stake of Jay-Z's popular streaming service TIDAL announced today. The acquisition is worth roughly $297 million!
These conversations have been going on for months, but it looks like the deal is now being finalized. Here's what Hov had to say: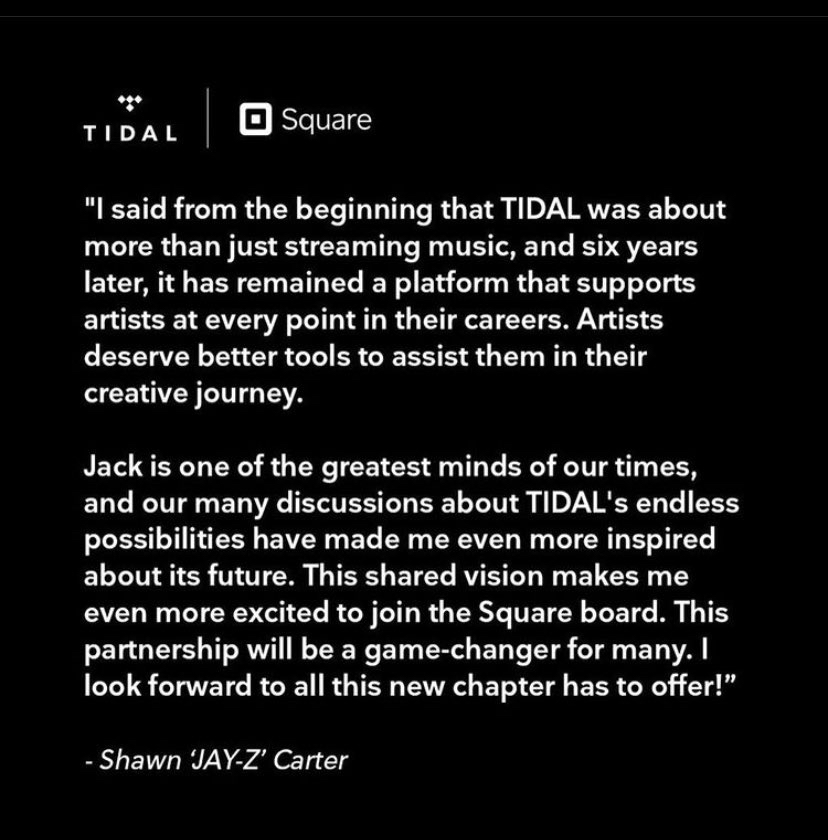 Here's what Jack Dorsey shared in a series of tweets:
"Square is acquiring a majority ownership stake in TIDAL through a new joint venture, with the original artists becoming the second largest group of shareholders, and JAY-Z joining the Square board. Why would a music streaming company and a financial services company join forces?! It comes down to a simple idea: finding new ways for artists to support their work. New ideas are found at the intersections, and we believe there's a compelling one between music and the economy. Making the economy work for artists is similar to what Square has done for sellers. Square started 12 years ago by giving small sellers a simple tool in order to participate more fully in the economy and grow. We did the same for individuals with Cash App, which now enables a comprehensive set of financial services for folks who weren't able to access it before. TIDAL started with the idea of honoring artists by being artist-owned and led, focused on an uncompromised experience of the art. It's refreshing and right. The vision only grows stronger as it's matched with more powerful tools for artists, inclusive of new ways of getting paid. Given what Square has been able to do for sellers of all sizes and individuals through Cash App, we believe we can now work for artists to see the same success for them, and us. We're going to start small and focus on the most critical needs of artists and growing their fanbases. Square created ecosystems of tools for sellers & individuals, and we'll do the same for artists. We'll work on entirely new listening experiences to bring fans closer together, simple integrations for merch sales, modern collaboration tools, and new complementary revenue streams. To all of TIDAL's current listeners and fans: THANK YOU for your loyalty and commitment to artists and their work. TIDAL will continue to be the best home for music, musicians, and culture. Our commitment to you is to constantly listen, learn, and work to make a service you love. I'm grateful for Jay's vision, wisdom, and leadership. I knew TIDAL was something special as soon as I experienced it, and I'm inspired to work with him. He'll now help lead our entire company, including Seller and the Cash App, as soon as the deal closes."
Jay-Z's been on a tear lately with his brand partnerships. It was just the other week that Moet Hennessy teamed up with Hov's champagne brand Armand De Briganc. Read more about that partnership HERE.
Congratulations to Jay-Z, Jack and the TIDAL and Square teams! This should be an interesting move for the ever-lasting streaming wars. Tell us your thoughts!
---
Reader's opinions
---